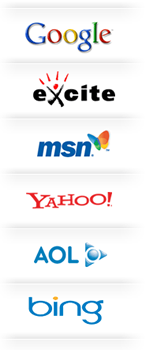 Submit Your Website to all the Major Search Engines
It's essential to keep your website listed in search engines and directories. TrafficDriver automates this time-consuming process:
Automatically submits your website to up to 400 search engines and online directories.
TrafficDriver includes a unique technology that guarantees your website will appear in
Google within eight weeks.
Re-submits your website every month.
Provides full reporting to show which search engines and directories your site has been submitted to.
Personal Keyword Research2
The TrafficDriver team researches and suggests keywords targeted specifically to your
website, product, geographic location and target audience.
All suggested keywords are given a competitive analysis to give you the best possible chance
of high search rankings