Make your email address professional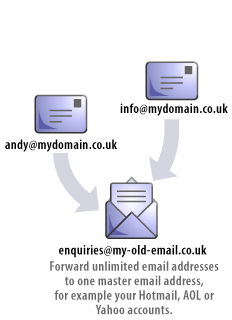 Is your email address slightly embarrassing? Email forwarding is the easy way to create a new, professional looking email address - and it's free!

As soon as you've registered your domain name, you can create new professional email addresses and use our free email address forwarding service to redirect mail to your existing address e.g. your Gmail or Hotmail account.


Professional email forwarding - no ads!Unlike many other providers, we don't add our own signature text or advert links to your emails, even though our email address forwarding service is free.


Create unlimited email addresses!Since you can create as many email forwarders as you need, why not create different email addresses to cater for common typos and variations and have them all forwarded to the same mailbox? For example enquiries@mydomain.co.uk and info@mydomain.co.uk could both be forwarded to the same email address.



Set up useful distribution groups
Instead of emailing specific groups of individuals, you can set them up on a single email address and let our free email forwarding automatically forward your messages to each of their mailboxes.



Send email from your personal email address
Free email forwarding allows you to create professional email addresses to receive email.
Note: In order to send email from your email address, you'll need a
full mailbox facility
.