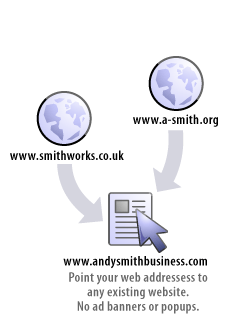 No banners adverts or popups
Although we offer web forwarding free of charge, unlike some providers we don't add banner advertising or popup adverts we simply forward visitors to your chosen website.



Protect your brands!Domain name forwarding is especially useful if you've registered multiple domain names with different extensions: you can forward them all to the same website. If you have registered the same domain but included common spelling mistakes and typing errors to capture as large an audience as possible, you can forward them to your main website in the same way.


Masked web forwarding!Using our easy framed web forwarding feature, you can choose to "mask" the destination website address in the browser address bar so it shows your own domain name.



Sub-domain web forwarding - unlimited!
As well as domain name forwarding, we offer the facility to create unlimited sub-domain web forwarders to different destinations. For example, this means you could forward visitors to completely different websites if they went to sales.yourdomain.co.uk and support.yourdomain.co.uk.



Create a website on your domain name
As soon as you're ready to create a website on your domain name, simply configure one of our
great value professional hosting packages
. All of our packages also come with the option of a range advanced web hosting features to help build and promote your online presence.